The past few years have seen the advent of several interactive web mapping applications and print-on-demand solutions for maps. But, there are few popular consumer applications on the web that do both together effectively. The award-winning website MySwissMap by swisstopo is one such web mapping application and is now available in the 2.0 release with a host of map editing and data upload features. 
The website offers Switzerland maps of three scales of 1:10,000, 1:25,000, and 1:50,000, along with an Orthophoto map and a Hiking map of the country. The website users can customize the maps by centering them on a location of their choice, adding annotations, GPX/KML data, and other customization options. The maps can be ordered on the site in folded or flat format and are printed and shipped by swisstopo, usually within a day.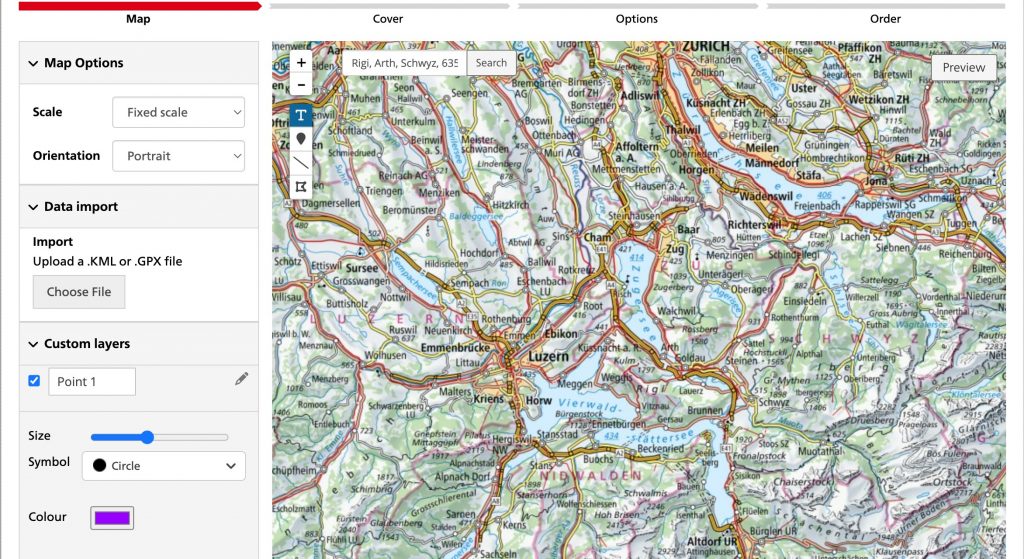 Some of the recent updates to the application include the following features:
The users can import GPX & KML files on all the available maps on the website. The application enables editing of this data by dragging features and applying styles.
Users can add annotations like text, point, line & polygon features on the base map. Users can use these tools over the base map with style options like color, alignment, opacity, etc.
Users can now choose the color for the Cover map, upload their image for the cover, and add a short personalized paragraph on the back cover.
A new addition to maps is the Hiking Map showing hiking trails across Switzerland, including mountain and alpine hiking trails, and other helpful information such as public transport stops, points of interest, observation towers, secluded inns, and car parks.
The website is developed & hosted by NextByte Technologies on the Magento eCommerce platform and integrates MapSherpa's Map Marketplace to leverage web mapping and eCommerce. 
MySwissMap is a collaborative effort from swisstopo, MapSherpa, and NextByte Technologies teams. swisstopo is the National Mapping Agency of Switzerland and produces geodata & topographic maps of Switzerland. MapSherpa Inc is an international print and digital Map Distributor that brings high-quality map publisher content to market through secure print-on-demand technology. ​NextByte Technologies, India, develops web applications & eCommerce solutions for the Mapping Industry.
Quote about the experience by swisstopo:
The solution with mySwissMap is a milestone for swisstopo and its customers, especially in view of decreasing print copies worldwide. We are all the more pleased that mySwissMap 2021 has won the PrixCarto in the Print category from the Swiss Cartographic Society. This success was made possible thanks to the excellent cooperation of all partners.
mySwissMap is a further step by swisstopo towards flexible and demand-oriented production in order to satisfy the needs of our customers for printed maps in times of digital transformation.
You can view the application at https://myswissmap.swisstopo.admin.ch/en/