In the past decade, we have witnessed the emergence of numerous interactive online mapping applications and print-on-demand solutions for maps, driven by the constant advancements in technology.  NextByte Technologies has been working with some of the leading map businesses in different markets to bring out highly customized map solutions integrated  with eCommerce systems. 
Edward Stanford Ltd is a leading supplier of Ordnance Survey maps in the United Kingdom and has recently re-launced its Planning Portal for OS Maps – https://portal.stanfords.co.uk. The new portal offers an impressive combination of products and customization features with options to order maps as downloadable PDF or TIFF files or as vector datasets. The search tools enable users to customize and order maps centered on the location of their interest.
Stanfords Portal has been developed in collaboration with NextByte Technologies and MapSherpa Inc. Based on the Magento e-commerce platform; this application utilizes MapSherpa APIs to customize and download maps from Ordnance Survey data. The application along with an intuitive interface and a wide range of features, enables businesses to create tailored mapping solutions for their commercial needs quickly and easily.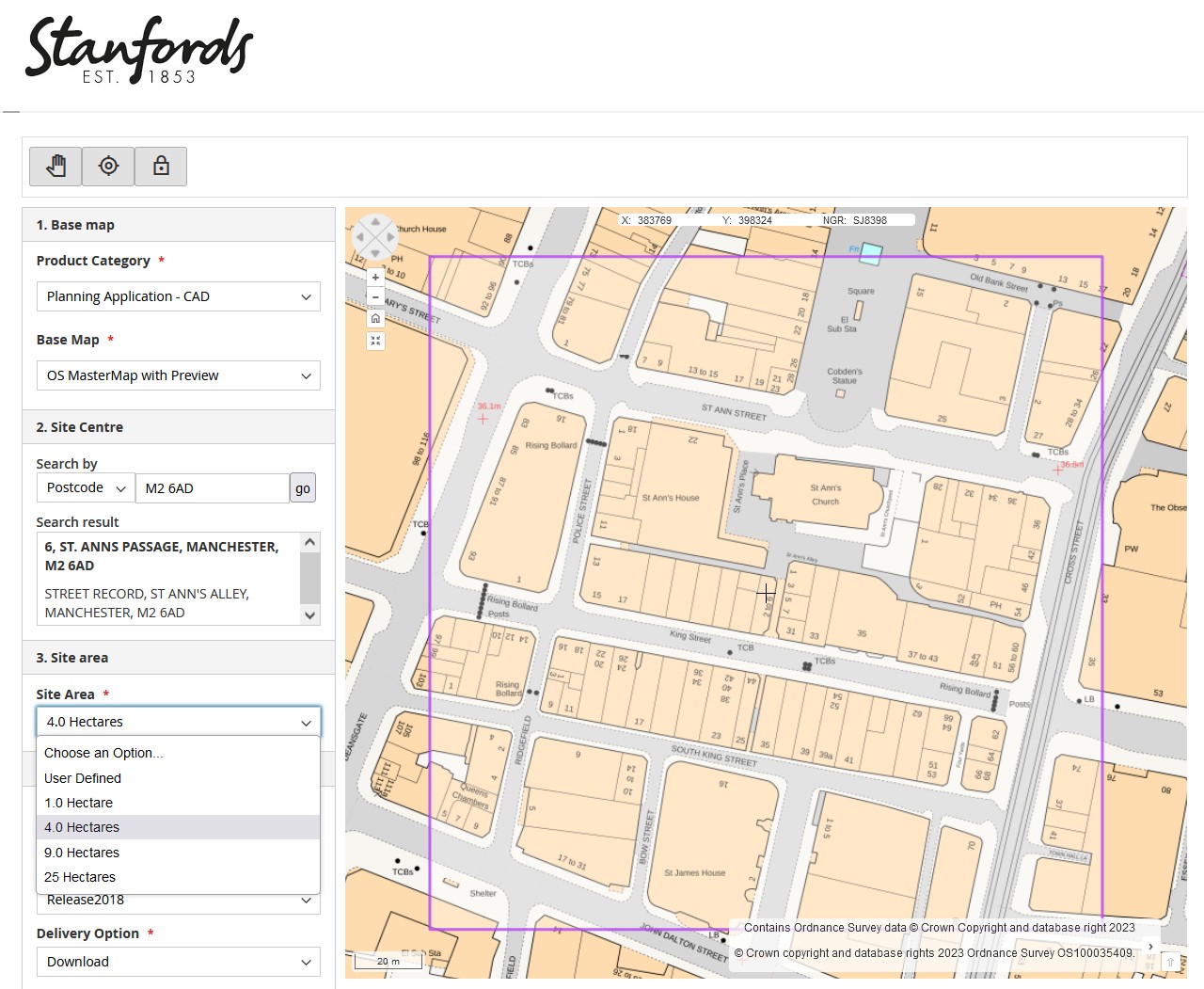 Stanfords Portal is designed to provide the users with an efficient and personalized way to access Ordnance Survey maps. It aims to streamline the process of map customization and enhance the efficiency of utilizing geographic information for industries that rely on precise and up-to-date mapping solutions.
From map annotation editing to data downloads and print area selection, this B2B application empowers registered users to create their own maps and download them in PDF/TIFF or DWG/DXF data formats.
Key features of the application include:
Single Page Interface:

Stanfords Portal provides customers with an interface where they can easily access all the necessary options and settings on a single page, streamlining workflow and enhancing the user experience.

Search Tool

: Users can perform searches for postal codes and for places and addresses; as well as being able to center the map based on Ordnance Survey grid references and specific coordinates.

Data Download Options

: Once the customized maps are finalized, users can download them in full-color DWG/DXF format. This offers compatibility with various CAD software commonly used in the business environment.

Map Annotation Editing:

This feature allows users to highlight properties; and draw rectangles, circles, lines and polygons on the map.

Line Buffer Polygon Tool

: This function lets users specify a buffer size and draw a line to create a polygon. It is particularly useful for road infrastructure map requirements, providing an effective solution for visually representing road projects and related applications.

Measurement Tools

: Stanfords Portal includes measurement tools that allow users to calculate the length of a line and the area of a polygon and circle.

Print Area Selection

: The portal allows users to select the print area based on predefined or user-defined custom sizes.

Package Downloads

: Users can easily access and download their customized map packages from the account section in Stanfords Portal, simplifying the management and delivery process of the final products.